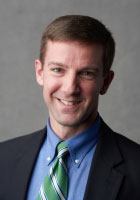 Chris Dollar is an Associate Consultant in Dollar Associates, LLC, a full-service consulting group focusing on credit unions and the organizations that serve them. Dollar Associates works with credit unions, trade associations, leagues, CUSOs, and organizations that serve credit unions in the fields of governmental relations, regulatory compliance, strategic planning, management training, and field of membership issues. Chris began his financial services career in 2003 as a financial solutions representative at Community Credit Union in Plano, Texas.
Chris joined Dollar Associates in 2005. In his role as consultant Chris has combined his knowledge of credit union issues with practical experience working on the credit union front-lines to facilitate strategic planning sessions for credit unions across the country and become a leading expert in credit union field of membership. In his time at Dollar Associates, Chris has been instrumental in helping many credit unions expand their existing field of membership to create essential membership diversification. Chris is a frequent speaker throughout the country in areas of credit union development and strategy. In addition, with his experience as a young credit union leader and as a former university employee working closely with college students, Chris advocates the importance of attracting and retaining young people into the credit union ranks, as members, professionals and volunteers.
Chris holds a Bachelor of Science degree in Business Administration from the University of Tennessee. Chris and his wife, Sally, have three children. Active in his local church, Chris serves as an Elder and Sunday School Teacher. An avid runner, Chris has completed numerous races of marathon distance and longer.