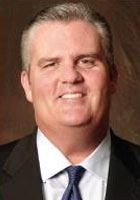 Kirk Cuevas is a co-founder and partner in Dollar Associates, LLC, a full-service consulting group focusing on credit unions and the organizations that serve them.
Mr. Cuevas' background is extensive in the areas of credit union law and regulation, insurance law, and public policy.  An attorney by profession, Kirk Cuevas served as Chief of Staff and Counsel to National Credit Union Administration (NCUA) Board Chairman Dennis Dollar from 2001-2004.
Prior to Mr. Dollar's designation as NCUA Chairman in February 2001, Mr. Cuevas served as Executive Assistant to Mr. Dollar in his role as a member of the NCUA Board from 1997-2001. In both of these positions, he was Mr. Dollar's foremost credit union policy advisor.
Mr. Cuevas was instrumental in the drafting, enactment and implementation of significant NCUA policy revisions in the areas of field of membership, investment policy, lending regulations, corporate credit unions and agency restructuring. He was at the forefront of the efforts to put into place Chairman Dollar's successful initiatives such as RegFlex, Access Across America, AIM (Accountability In Management), FOM updates, member business loan modernization, overseas branching and others.
Having an extensive background in insurance litigation prior to his appointment by Mr. Dollar to his position with NCUA, Mr. Cuevas managed the day-to-day operations of a 14-county region for the State Farm Mutual Automobile Insurance Company in Hattiesburg, Mississippi, from 1994 to 1997. He began his career with State Farm Insurance in 1991 as a claims representative/attorney in Biloxi, Mississippi.
Mr. Cuevas is a licensed attorney and a member of the Mississippi Bar. A former college instructor teaching law courses at the undergraduate level, he has been a regular presenter on credit union law and regulation at national, regional, state and local conferences. Labeled by Credit Union Times, a leading credit union publication, as "the guy at the shoulder of the Chairman" through his successful tenure at NCUA, Mr. Cuevas has been recognized as an authority on credit union field of membership issues. He has personally reviewed for approval hundreds of community charter conversions for federal credit unions at the Board level.
He has been active in a number of civic and community organizations and serves Board of the Lorie Johnson Foundation, a non-profit organization devoted to providing financial assistance to women battling cancer. He was selected as an Outstanding Young Man of America in 1996 by the Outstanding Young Americans Society. He was recognized as one of America's Most Honored Professionals in 2017 and recently selected as one of 40 business and civic leaders in Shelby County. Alabama to participate in the 2017-2018 class of Leadership Shelby County.  In 2017, Mr. Cuevas joined the Board of YUGO ministries and currently serves as Vice Chairman.  Active in his local church, Mr. Cuevas has served in many roles including Baptist Deacon, Sunday School Teacher and Chairman of the Elders.  Mr. Cuevas currently serves as an Elder, Vice-Chairman of the Church Personnel Committee and Bible Study Teacher at Double Oak Community Church in Birmingham, AL.
He graduated with a bachelor's degree from the University of Southern Mississippi in 1988 and received his Juris Doctor degree from the University of Mississippi School of Law in 1991. A native of Gulfport, Mississippi, Mr. Cuevas and his wife, Alicia are the parents of one adult daughter, Sarah.  The Cuevas family resides in Birmingham, Alabama.